Culverden Vets is owned by two working vets, our Partners, Duncan Mitchell and Tom Doyle. The practice has been around for more than 70 years and our team is proud to continue the tradition of providing compassionate, cutting edge veterinary care.
Our three surgeries in Tunbridge Wells, Crowborough and Wadhurst are very much part of their communities. Each has its own character but in all of them we offer expertise, experience and excellent facilities. We also visit animals in their homes.
Most of our patients are dogs, cats and rabbits, but we are also very experienced in caring for garden poultry, tortoises and small pets such as guinea pigs, rats, mice, gerbils and hamsters.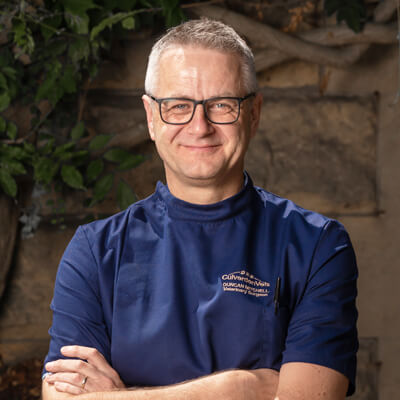 Mr Duncan Mitchell
BVetMed MRCVS – Partner 
Tunbridge Wells
Click here to view full bio
I joined the practice in 2000 having spent the previous year travelling the world with my future wife, Ruth. I became a partner in 2005 and assumed responsibility for the Tunbridge Wells surgery when Brian Rosevear retired in June 2008. I enjoy being a good general practitioner practising the art of veterinary medicine as well as the science. I am proud to run an independent veterinary practice when the majority are now owned by corporate business. I am also proud to train veterinary nurses to a high standard as the surgery is a nurse training centre. Although I seemed to have developed a reputation as a feline vet I am equally keen to see dogs! I have 2 Street Katz rescue cats at home: Sally and Linus.
Outside of work I am either to be found entertaining my two Skinners' boys, William and George, or polishing my classic car – a 1965 Mercedes Benz 230 SL. I am also a very keen cyclist, although Geraint Thomas won't be losing any sleep in the near future!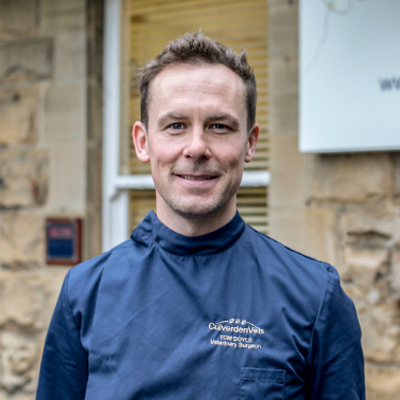 Mr Tom Doyle
MA, VetMB, MRCVS – Partner
Wadhurst and Crowborough 
Click here to view full bio
I graduated from Cambridge in 2001 and joined the practice as a locum in 2003. Working life at Culverden – and the great summer that year – convinced me to stay for a little longer, and somehow I've never left. I've been a partner since July 2012, and enjoy splitting my working time between my home village of Wadhurst and our two other surgeries.
I enjoy pretty much every aspect of clinical work and particularly learning new things. I'm a keen "eye geek" with RCVS Advanced Practitioner status in Ophthalmology and take second opinions from my colleagues.
I'm one of two Partners in the practice and (although my responsibilities have added a few grey hairs) I'm very proud of the team and facilities we've built at Culverden.
Outside work I cycle, grow vegetables, tramp about the countryside, read, travel and keep up with my family and friends. I have an inordinately handsome and opinionated white cat, Michael D who features regularly on @CulverdenVets, and a temporary gap in my life where a spaniel should be (watch this space!).
WHAT MAKES US DIFFERENT
Culverden Veterinary Group is proud to have served the best interests of your pets for over 70 years. We are still an independent practice, and therefore not restricted in the treatment of your pets, we look after them and you, our clients, above anything else. Working together is vitally important to us, we understand how you are putting your trust in us, with the health of your pet. We will use our knowledge and experience to resolve any problem, taking our responsibilities very seriously to maintain our excellent reputation.